Use the drop-down menu below to explore Chiang Mai.
Entitled 'The Rose of the North', Thailand's northern capital is far smaller and more serene than Bangkok. Chiang Mai has, in the last decade transformed from a low-key, old-world city into a modern metropolis, complete with top class restaurants and five-star hotels. A walk around the inner-city moat will take you past the array of glittering temples, aromatic food markets and eclectic shops of Chiang Mai's downtown, while just five minutes away is the popular Night Bazaar – a shopping Mecca for tourists. Other highlight attractions include a visit to the trendy Nimmanhemin district, with its upmarket bars and shopping outlets, and a trip up Suthep Mountain, to see the hilltop temple and take in panoramic views of the city below.

April is the hottest month in Chang Mai with an average temperature of 30°C (86°F) and the coldest is December at 21.5°C (71°F) with the most daily sunshine hours at 9 in December. The wettest month is August with an average of 200mm of rain

Temperature
Rainfall (mm)
There are no airlines that fly directly to Chiang Mai however there are flights from all over the UK that will connect and give the opportunity to stopover in various destinations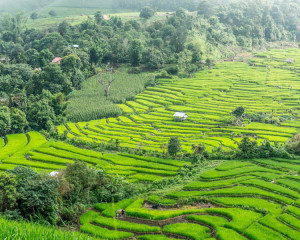 Other Far East Destinations
Ready to book your next holiday?
Contact us today for suggestions and specialist advice
AS SEEN ON ITV
We aim to give the best price available & great service too.