Hale Branch
The Hale branch opened in 2000, and without doubt enjoys the most eclectic client base, whose requirements range from private jets to student holidays. A warm welcome is guaranteed once you step through the door where our team are keen to share their expertise, with an outstanding attention to detail. Clients return year after year for that same distinct service that sets Prestbury Travel apart. For all your travel needs, do not hesitate to visit the team in Hale.
Featuring a PRIVATE RETREAT ROOM - as sometimes a little privacy is needed.
Meet the Team
Patricia Loots
Patricia, whose family are from South Africa, has had the opportunity to travel from a young age which paved the way for her career in travel.
With over 25 years' experience, Patricia has covered all aspects of travel. The knowledge & experience she gained have definitely proved to be an asset in her role. Previous experience as a Product Manager; contracting luxury hotels in Asia, Australia, New Zealand, the South Pacific and Africa, has given her an in-depth understanding of these destinations and have proved to be invaluable in her current role as a travel agent. In recent years she has also enjoyed visiting many destinations in Europe such as Italy, Greece,Cyprus, Spain and the Canaries.
Jody Faulkner
Jody started her extensive travel career 23 years ago as a young YTS and fell in love with the Travel Industry, quickly progressing to branch manager by the age of 20. Since starting with Prestbury Travel, Jody has been Manager at both our Poynton and Hale branches before taking time off to have her young daughter and returning to work part time at our Hale branch.
Having travelled to many destinations including numerous visits to the Caribbean and Indian Ocean, Mauritius holds a special place with Jody after she got married there in a beach ceremony.
Jody prides herself on her outstanding customer service which combined with her extensive destination knowledge helps her to find the perfect holiday for all her clients.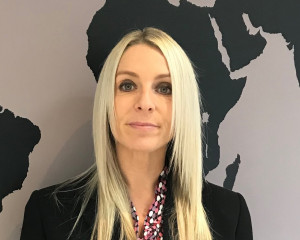 Elaine Lee
Elaine is the Manager of our Hale branch and has a wealth of travel experience from her 22 years in the industry, having travelled far and wide. In recent years she has specialised in destinations that include the USA, Caribbean, Indian Ocean and Africa. She also has a great understanding of the US fly-drive, Cruise and Family Florida market as well as in-depth knowledge of the many US city break destinations.
Elaine's highlight was a tour of Costa Rica where she zip-lined through the trees, walked along the hanging bridges and along the path of a volcano and was entranced with the beautiful scenery and wildlife. This year Elaine has experienced the Italian hospitality of Sardinia with its rugged coastline and pristine white beaches. She has also travelled to Paphos in Cyprus for a stay at the Asimina Suites as well as enjoy a holiday to the Riviera Maya In Mexico where her family saw Elaine sipping Tequila. She has yet to enjoy another family holiday with a wedding in the beautiful Cathedral of Palma.
Elaine prides herself with her customer service and her passion for creating the perfect holiday.
Karen Platt
Karen is the Caribbean Supervisor for Prestbury Travel's tour operation department, Prestbury Worldwide Resorts, and has extensive knowledge of private villas and hotels throughout the Caribbean.
An avid traveller, Karen spends many of her personal holidays in the Caribbean, Barbados a particular favourite, and knows the islands and our hotel partners well having built up relationships with them over a number of years. If you are looking for the holiday of a lifetime in the Caribbean, Karen will build a bespoke itinerary based on your ideas and will also make suggestions that will enhance your trip.
Karen is based out of our Hale office 2 days a week and is available for private appointments.
Vicky Darlington
Vicky has always worked in the Travel Industry, after falling in love with Greece especially the island of Santorini at an early age.
Her specialist areas are Maldives, Sri Lanka, Mauritius, and Europe. She loves helping couples to book their dream Honeymoons, planning special occasion trips.
Her recent holidays have been with her family, she has been lucky enough to visit luxury properties in Crete, as well as taking the family to the Maldives and Dubai.
She would love to do a safari, or a motorhome road trip and return to Florida so her rollercoaster loving son and Disney loving daughter can visit the theme parks.
Contact Us
Hale Branch
170 Ashley Road
Hale
Altrincham
WA15 9SF
0161 672 8752
hale@prestburytravel.co.uk
Opening Times
Monday to Friday
09:00 - 17:30
Saturday
09:00 - 16:00
Sunday - Closed
Nearest carpark:
Near Marks & Spencer, Cecil Road East, WA14 9NT - Pay & Display.
Nearest train station:
Hale Train Station, Ashley Road, WA14 2UZ.
Ready to book your next holiday?
Contact us today for suggestions and specialist advice
AS SEEN ON ITV
We aim to give the best price available & great service too.

Current offers
Take a look at some of our latest offers. View all